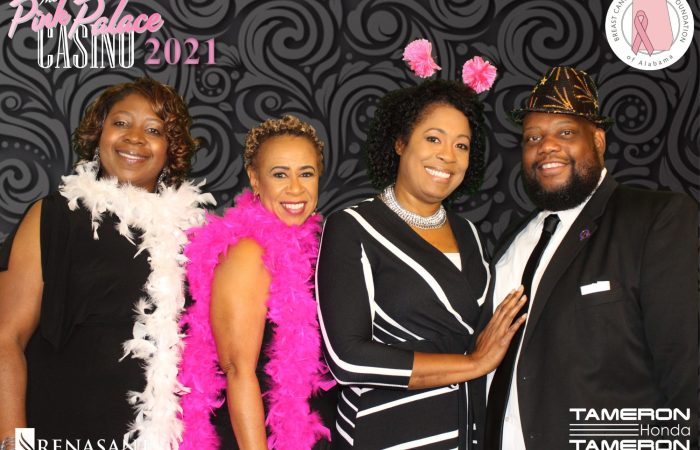 Everything You Need to Know About Pink Palace Casino Night 2022
Board Member Gloria Buie tells us why she loves Casino Night and what she's looking forward to most at this year's event on April 23.
It's clear Gloria Buie is passionate about being a voice and advocate for people with breast cancer. She has served on the Board of Directors for the Breast Cancer Research Foundation (BCRFA) and as a member of our Pink Palace Casino Night planning committee since 2021. With the event coming up on Saturday, April 23, we asked her to tell us a little more about the event and what she's looking forward to most.
BCRFA: How did you get involved with the BCRFA and Pink Palace Casino Night?
Gloria: I became involved with BCRFA after being a part of the "You are Beautiful Luncheon" and part of the Breast Cancer Research tag campaign. Being a breast cancer survivor, I felt and still feel really at home being part of the BCRFA and totally aligned with its mission. I got involved with Pink Palace Casino Night when I was appointed to the Board and asked what committee I could serve on. I signed up for PPCN because I wanted to be a part of the "fun" fundraising efforts.
BCRFA: What do you love about Pink Palace Casino Night? If you had to pick, what would be your favorite thing about it?
Gloria: I love the excitement leading up to and during Pink Palace Casino Night. My first experience volunteering, I served as a greeter. Just witnessing the excitement of people as they entered was exciting and encouraging. I could tell that most of them had attended before and they were ready for a fun night with lots of money raised. Just seeing the tremendous support for the event was amazing.
My favorite thing about Pink Palace Casino Night is the excitement of the people, the amazing auction items (and how many there are), but most importantly the dollars raised for research. Also, seeing [BCRFA Executive Director] Beth and her infectious excitement at the end of the night is priceless.
BCRFA: If someone is thinking about coming to PPCN, why would you tell them to do it?
Gloria: I would encourage them to come and be a part of a great experience in fundraising for a great cause – to help fund research for breast cancer and have a Las Vegas-style experience that can be found nowhere else in Alabama.
BCRFA: As a board member and Pink Palace Casino Night committee member, you dedicate a lot of time to the BCRFA. Why is it an important organization to you and why do you believe in its mission of raising funds and awareness for breast cancer research?
It's important because I feel it sets an example of my commitment to the organization and its mission to help save lives of those with breast cancer by funding promising breast cancer research in Alabama.
I remember when I was diagnosed my doctor literally said, "I am so sorry this happened to you." I had no family history of breast cancer, I was a vibrant, healthy woman – it just showed up. Finding a cure is important to me for that very reason, and the fact that I have daughters and a granddaughter – we've got to find a cure to eliminate breast cancer as a public health concern.
BCRFA: Thank you, Gloria! We can't wait to party with you soon at Pink Palace Casino Night on Saturday, April 23!
---
For tickets and more information on Pink Palace Casino Night click here.
Tickets ($100) include heavy hors d'oeuvres by Kathy G. & Co., complimentary beer and wine (cash bar also be available), $500 in gaming money, and live music by STREETKAR.
Event highlights:
Vegas-style casino gaming with blackjack, poker, roulette, craps, and slots.
Fabulous prizes and a silent auction with must-have items generously donated by our supporters and local businesses.
Diamonds + Drinks: Donate for a glass of bubbly and a chance to win a pair of 14k white gold graduating diamond dangle earrings featuring 14 brilliant round cut diamonds totaling 1.60 carats courtesy of Diamonds Direct.
All proceeds from this event fuel lifesaving breast cancer research across the state—the key to finding new treatments and ultimately a cure for this disease. Join us in funding research and saving lives!