SPOTLIGHT ON: Kay Zarzour, Revvin' 4 Research Co-Founder
September 14, 2020
Twelve years ago, a group of female motorcyclists joined together to raise money for breast cancer research in Alabama. At that moment, the annual Revvin' 4 Research event was born. 
Since then, the event has raised over $165,000 for local research, and aims to keep that number rising each year. 
This month, we met with Kay Zarzour, one of the co-founders of the event, to learn more about the ride's beginnings, her favorite memories from the ride over the years and why breast cancer awareness still matters so much. 
How did Revvin' 4 Research start?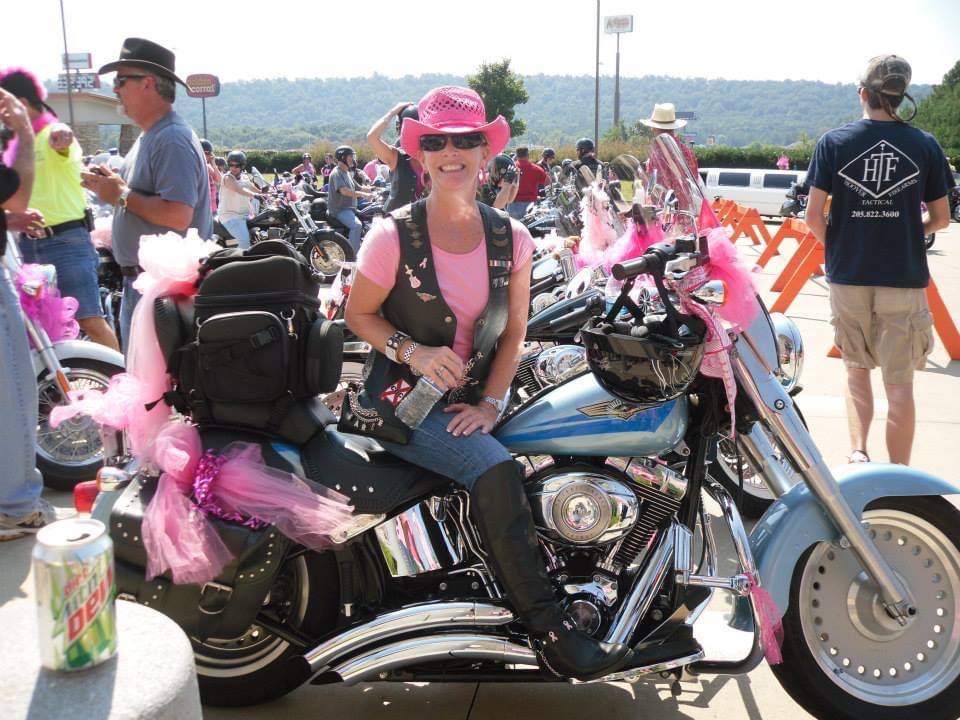 I was in a group called the Dixie Divas. There were around 40 of us, all professional women, riding motorcycles together. As time went on, we decided that we wanted to add a mission to our group. 
At the time, my mom was still living, but she had been diagnosed with breast cancer – stage four inflammatory breast carcinoma. At that point, we decided to make our mission breast cancer research, with my mother as the mascot!
Very soon after, we formed a charity ride, although at that point we didn't really know what we were doing. We had a great time though. 
That was around the time we decided to fully engage and support the BCRFA in any way we could, so Revvin' 4 Research was officially born. This month, we're celebrating our 12th year of holding the ride. It's come a long way since our early days. 
What's your favorite part about the event?
My favorite part is bringing others – including men – into the group. We have a lot of men who attend this ride, and in the past, we've offered male breast cancer survivors the chance to speak at the event. It's very important for us to bring awareness to the fact that breast cancer doesn't discriminate. You can be male, female, any age, any origin – it's something we all need to be aware of.
The way I see it, if we reach one person, and help them to be aware of the risks – to go ahead and have that mammogram or ultrasound – then it's worth it to me.
Do you have a favorite story from the event?
When my mom was still alive, she attended every ride. She didn't ride motorcycles, but one year we did have a survivors' limousine, so she did "ride" in that way. She loved the event. When we first started planning the ride, my mom said, "Are the bikers going to be mean?" And I said, "No ma'am, they're really gonna love you!" And they did.
One year, my brother grew out his hair to create wigs for cancer survivors. At the event that year, they set up a barber's chair and my mom cut his hair there, in front of everyone! They dedicated it to cancer survivors as part of the event before the ride. That was great.
She died in May 2014, and was scheduled to speak at the event that year. I spoke for her, and while I did, I noticed one of the biggest, tallest bikers – in leathers – with tears rolling down his face because she was no longer with us. That's just how it was! The group loved her, and she loved them. It was very special.
Why do you think that what the BCRFA does matters?
The mission of the BCRFA has a lot of parallels with my drive and my heart. My mother's mother died of breast cancer. My mom died of breast cancer. I've had a scare. 
It's so important to remember that you know your body better than anyone else. If you feel there's something going on, you should make an appointment to be checked. I want people to be comfortable reaching out for help, and I feel that the BCRFA builds awareness around the idea that it's okay to ask for help.
I want to be part of bringing breast cancer numbers down, catching illness earlier, and to one day, find a cure for this disease that is so devastating. And just mean. It took my momma from me. 
That's what fuels me to support the BCRFA: the desire to help people not go through what my mom did. 
What one sentence would you share with someone who's thinking about going to Revvin' 4 Research for the first time?
"It won't be your last." 
The BCRFA makes Revvin' 4 Research such an organized and fun event. If you've ever ridden and gone to other rides – and I do a lot of charity rides – you'll know that this is one of the best motorcycle events out there. 
We have escorts. We keep safety in mind. It's just an all-around well-organized, well-run ride for a great cause. 
To learn more about Revvin' 4 Research or to register, click here.