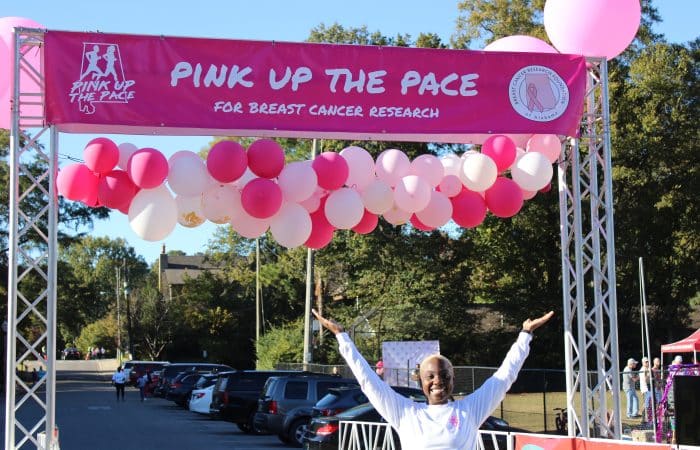 Alabama goes pink for Breast Cancer Awareness Month
Businesses and community organizations across the state give back and raise funds to support local, lifesaving breast cancer research
October is National Breast Cancer Awareness month, and the Breast Cancer Research Foundation of Alabama (BCRFA) is partnering with local businesses and organizations across the state to support lifesaving, innovative breast cancer research. From schools to car dealerships, banks to real estate brokerages, over 25 groups have committed to fundraise and donate to fuel breakthroughs in breast cancer diagnostics, treatments, and prevention methods that ultimately save lives.
"The Breast Cancer Research Foundation of Alabama is proud to play a role in preventing breast cancer deaths through education and awareness this Breast Cancer Awareness Month," said Beth Davis, BCRFA President & CEO. "I'm so inspired to see our partners unite behind our mission and hopeful for a future without breast cancer thanks to research."
Proceeds from the events and promotions advance the most promising and innovative breast cancer research happening in Alabama. Last year the BCRFA invested over $1.225 million in 20 projects at seven Alabama-based institutes. The organization will announce it's 2022 grant awards in December.
"The funding for research is essential," continued Davis. "But Breast Cancer Awareness Month is also an important time to celebrate the successes of breast cancer survivors and memorialize lost battles while encouraging others to join the fight against a disease that touches so many."
One in eight women and one in 1,000 men will develop breast cancer. This year alone, an estimated 4,280 Alabama women will be diagnosed and 730 will die. However, thanks in large part to investments in research and early detection, death rates from breast cancer in women are dropping. Thirty years ago, 4 out of 5 breast cancer patients lost their lives to the illness. Today, those numbers are reversed with 4 out of 5 breast cancer patients conquering cancer.
Individuals looking to get involved this Breast Cancer Awareness month and support breast cancer research can join in at one of the following community events. People without an event in their area can support the BCRFA with a donation, purchase the Breast Cancer Research license plate, snag some pink apparel at the BCRFA shop, or host their own fundraiser.
2022 Breast Cancer Awareness Community Events
Additional community events and partners participating via internal fundraisers include:
24e Health Club (Pelham)
Birmingham School of Law Black Law Students Association (Birmingham)
Daphne High School FCCLA (Family, Career, and Community Leaders of America) (Daphne)
Hubbell Power Systems (Leeds)
Kamtek Inc. (Birmingham)
New Hope Baptist Church (Pell City)
Sigma Lambda Gamma Sorority (UAB) (Birmingham)
SMP Automotive Alabama (Cottondale)
Spain Park High School (Birmingham)
Tuggle Elementary School (Birmingham)
---
About the Breast Cancer Research Foundation of Alabama
Founded in 1996, the Breast Cancer Research Foundation of Alabama (BCRFA) is a nonprofit organization whose mission is to find a cure for breast cancer by funding promising breast cancer research in Alabama and raising community awareness and funding for that research. BCRFA funds promote a comprehensive approach to battling breast cancer by fueling collaborative and innovative research to help diagnose, treat, prevent, and eradicate the disease. Thanks to generous community support, BCRFA's lifetime investment in life-saving research totals over $12 million. All funding stays in Alabama, but the impact is worldwide. Learn more about our mission and breakthroughs at www.bcrfa.org.