Each year the BCRFA issues a formal Request for Proposals (RFP) to Alabama-based researchers working on any project related to breast cancer. Last year, this process resulted in our investment of 1.275 million dollars in research across the state.
Astound Research, a Birmingham-based startup, is also working to jumpstart cancer research by connecting scientists and funders via a new online marketplace.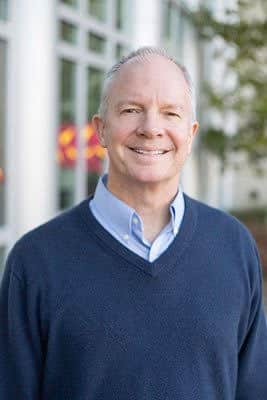 This year, the BCRFA's RFP is included on the platform, allowing us to potentially reach new research audiences and strengthen our mission to fund Alabama's most promising breast cancer research.
We recently sat down with Astound's Founder and Chief Scientific Officer Dr. Joel Berry to talk more about the challenges researchers face when it comes to funding and why he thinks interdisciplinary collaboration is the key to scientific progress for breast cancer and beyond.
Dr. Berry is a biomedical engineer with thirty years of experience in life sciences and bioengineering product development. Prior to founding Astound, he was as an Associate Professor of biomedical engineering at the University of Alabama at Birmingham (UAB) from 2010 to 2022. He also received a 2018 BCRFA Collaboration Award for "A Humanized 3D Immunocompetant Model of Breast Cancer for Precision Medicine and Immune Therapy Development" a collaborative research project by UAB and Southern Research investigators.
BCRFA: Astound Research aims to improve the current funding system for scientific research. What's challenging about how it works now and did you have an "a-ha moment" that made you realize it needed to change?
Dr. Berry: Most academic scientists are conditioned to seek funding for their science through federal grants. My "a-ha" moment came when spoke about my BCRFA-funded research to a group of women who are survivors of metastatic breast cancer (Metavivor.org).  They all asked when a cure was forthcoming and all I could tell them was in maybe 10 or 20 years. In that moment, I realized how the federal system of funding science actually slowed the pace of progress. I learned that although billions of dollars are available every year in industry funding, scientists generally do not know how to approach industries working in their areas of specialty. And these industries are the best equipped to translate innovations into therapies. So, I created Astound to improve this overall academic scientist to industry scientist experience and accelerate therapies and cures.  At the end of the day, we want scientists talking to each other about how to speed up research.  That's good for everyone.
BCRFA: Through Astound's platform you hope to connect researchers to funding sources outside of Federal Grants, specifically from corporate sponsors or foundations. In your wildest dreams, what does success look like?
Dr. Berry: OK.  I'm going with the 'wildest dream' part of your question…Success looks like realizing faster cures for breast cancer, Alzheimer's, diabetes, global climate change, and all the other complex challenges out there, because scientists got to step back into the lab and do their work rather than waste time endlessly applying for grant after grant.  If we can remove the friction and roadblocks that slow down research collaboration by bringing digital tools to bear, we'll have made a dent in the universe…or at least in the process of discovering knowledge.
BCRFA: Industry-academia collaborations played a notable role in your career, particularly with industry-funded science projects. Could you share an example of an industry collaboration that significantly impacted your research and approach to problem-solving?
Dr. Berry: When I started as a junior faculty member at Wake Forest University in the early 2000's, I secured a contract with Johnson & Johnson on the development of vascular stents for the treatment of carotid artery disease. I had developed a benchtop flow model and an animal model for analyzing how these stents could be expected to perform in humans. The industry team visited my lab in North Carolina, and I visited their facility in California. We were both deeply involved in the project and it seemed like a perfect match. They helped me to understand the bench-to-bedside process which was the best result for me as a young scientist. Since then, I always approached my science projects with an eye for how the results could benefit patients.
BCRFA: In addition to leading Astound, you are also a member of the BCRFA's Medical Advisory Council, a group of volunteer scientists that assist with the review of proposals we receive in response to our RFP. What is an area of breast cancer research in which you anticipate some major breakthroughs in the coming years?
Dr. Berry: I think immunotherapy is a hot area with a number of potential breakthroughs in the coming years.  We see a number of our industry partners focusing on this space and looking for great research collaboration opportunities with academia.  One exciting aspect of immunotherapy is that there are so many different methods to stimulate the human immune system, so there are so many different research paths to explore.  I look forward to BCRFA finding great scientists working here in Alabama, and reviewing their proposals!