Kathy Paiml's breast cancer journey is one where resilience meets compassion, and the power of advocacy shines brightly.
In addition to being a 17-year breast cancer survivor, Kathy is also Ms. Senior Alabama 2023. She was diagnosed in 2006 at the age of 48 calls herself the "poster child for early detection."
Kathy embarked on a path filled with challenges, hope, and unwavering support. Today, she stands as a beacon of awareness and advocacy, passionately dedicated to spreading the importance of breast cancer screenings, research, and the boundless possibilities of survivorship.
Read on as Kathy shares her insights, experiences, and her fervent commitment to making a difference in the fight against breast cancer.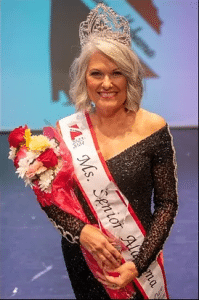 BCRFA: Can you share a bit about your personal breast cancer journey, including when you were diagnosed and the emotions you experienced at that time?
Kathy Paiml: I was diagnosed in 2006—17 years ago! I celebrate that anniversary on September 19, two days after my birthday each year. I was 48 years old when I got the news. After I got the call, I didn't have anyone to talk to. My husband was stuck in an airport and couldn't get home. I had to tell him on the phone. It was hard to talk about with anyone at first. My mom's sister died from breast cancer when she was 44 and my mom's mother died from breast cancer at age 60 (three years apart). I didn't want to tell my two sisters and my mom of my diagnosis three different times, so I e-mailed them at the same time. I couldn't talk about it to anyone without crying, so I didn't. I even e-mailed my co-workers to tell them the news. I told them not to come up and hug me because it would release the waterworks and that I knew they were praying for me. I was a teacher, and I didn't want my students to see me upset. I had to process it myself and that took a little time.
BCRFA: What were some of the key challenges you faced during your breast cancer treatment, and how did you overcome them?
Kathy: The first challenges were getting all the doctors scheduled and weighing all my options. I had a biopsy to determine the type of cancer I had. It was estrogen positive and was 3/10 cm—we caught it early!  Once I knew what I was dealing with, I had a focus. It was so much easier than the unknown. I happened to have a cyst on my ovary during that time also. They didn't think it was anything, but because of my diagnosis, they offered me the option of removing them. I had genetic testing done to determine if I had the gene [BRCA 1 or 2 gene mutation]. I didn't. I met with the plastic surgeon and was trying to decide all the options there. Because of my family history, I decided to have a bi-lateral mastectomy and remove my ovaries. Time was ticking after all these appointments, and I wanted that cancer out of my body! We couldn't get the surgical oncologist, plastic surgeon and the gynecological oncologist scheduled for my surgery sooner rather than later, so I opted to deal with the plastic surgeon at a later time.
BCRFA: Many people find inspiration and strength in the support of loved ones during their cancer journey. How did your friends and family support you through this difficult time?
Kathy: Many people don't know what to do or say when a friend or loved one is diagnosed. I received meals, baskets of goodies, cards, and devotionals. Since my mom and sisters lived through breast cancer with my aunt and grandmother, they were there for me. My husband and boys were by my side the whole journey. The best support I received were prayers. I felt them and they comforted me.
BCRFA: Breast cancer awareness is crucial for early detection and improved outcomes. What motivated you to become an advocate for breast cancer awareness, and how do you promote it in your community?
Kathy: I walked in my first breast cancer/survivor walk three weeks after my surgery. I still have that t-shirt. It helped to see all the women who were going through this same journey. It gave me hope! I've continued to walk to support the cause and give hope to others, like they did for me! I am excited to be judging the CahabaQue BBQ cookoff on October 7 and will be participating in the Pink Up the Pace 5K and fun run on October 22. I will be headed down to Mobile to walk in the Bras Across the Causeway event on Saturday, October 14. I am lucky enough to be joined by my friends and sister queens of the Ms. Senior Alabama organization. It's never too late to make a difference in the lives of others!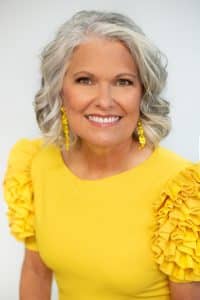 BCRFA: Research plays a vital role in advancing breast cancer treatment options. Can you share your perspective on the importance of breast cancer research and any personal experiences with clinical trials or innovative treatments?
Kathy: Oh my, yes! Research makes all the difference in the world. My aunt and grandmother suffered through their breast cancer journey in the 70s; my aunt went through the pain of a radical mastectomy and removal of a large amount of lymph nodes. We don't have to do that anymore. We have so many more options of treatment, medications, and plastic surgery choices. Because of research, so many more people are surviving for longer periods or even cured! I am hopeful for the future that we may soon find a cure for this disease that affects so many.
BCRFA: Survivorship often brings a unique perspective. How has your experience with breast cancer changed your outlook on life and your priorities?
Kathy: Most definitely! I was a teacher when I was diagnosed. The year after my surgery, I became an assistant principal and just retired as an elementary school principal three years ago. I knew I wanted to continue to serve the community. After retirement (in the middle of the pandemic), I thought, now what?. I began teaching part-time at Unless U, a school for adults with developmental disabilities. Along with that, I entered my first pageant: Ms. Senior Alabama. I represented Helena as Ms. Senior Helena for two pageants and was First Runner Up. I competed one more time and won the title of Ms. Senior Alabama 2023 in June. Through my title, I now get to serve others and showcase what is important to me and my fellow sister queens throughout the state of Alabama. Service to others is what is important—it's my time to give back!
 BCRFA: Breast cancer affects individuals of all ages. What message do you have for young women and men about the importance of breast self-exams and early detection?
Kathy: I'm the poster child for early detection! Because of my family history, I began getting yearly mammograms in my early 30s. At 48, my cancer was first seen on a mammogram. They caught it early! Early detection saves lives—I'm proof of that! It also gives you better treatment options. Don't be afraid to do breast self-exams, or get a mammogram, or an ultrasound to check yourself out if you find something suspicious. It won't go away if you ignore it. You are too valuable to your family and friends! Take care of you! The world needs you and what you have to offer.
Thank you, Kathy!