25 For Research: Kay Zarzour
September 15, 2021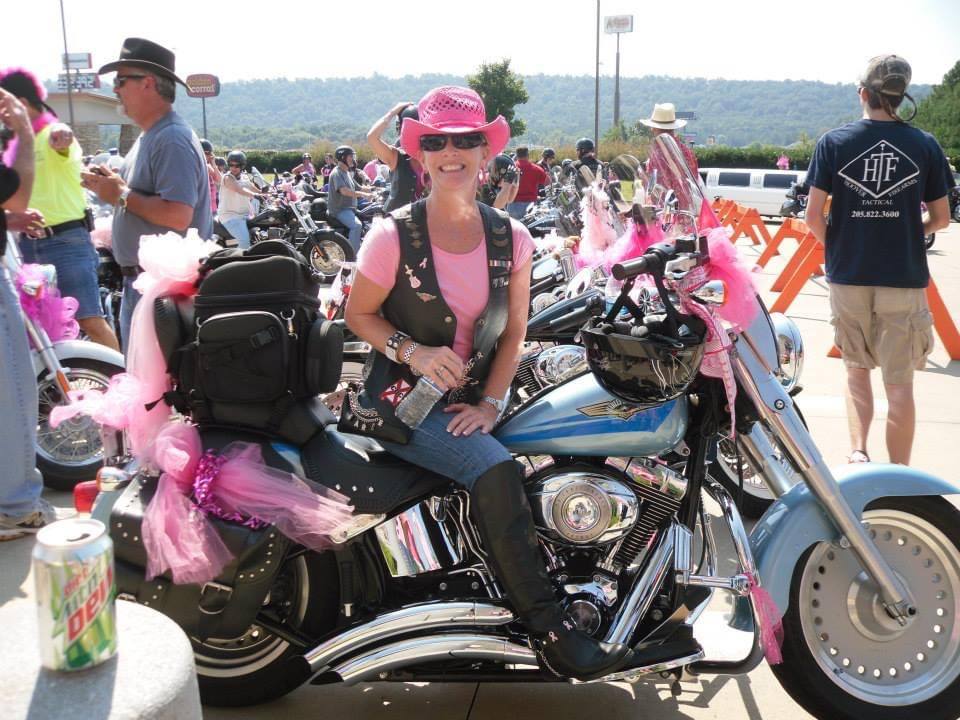 Days before she passed away from breast cancer, Kay Zarzour's mother asked if Kay would continue fighting for breast cancer research and supporting the Breast Cancer Research Foundation of Alabama.
"And I promised her I would," says Kay.
Kay is the co-founder of Revvin' for Research, a motorcycle ride that raises funds for breast cancer research across the state, and a longtime supporter of the BCRFA.
Coming from a family of motorcyclists, Kay was no stranger to the pastime. "I was in a group called the Dixie Divas. There were around 40 of us, all professional women, riding motorcycles together."
When Kay's mom was diagnosed with stage four inflammatory breast carcinoma, the group decided to make breast cancer research their mission and start a charity ride to support it.
"My heart was devoted to research and the victims of all cancers, but especially breast cancer," said Kay.
"It was rewarding for me to feel like I was playing a small part in helping someone who was going through what my mom went through."
After reading about the different breast cancer-related organizations in the area, Kay and her fellow Dixie Divas decided to partner the Breast Cancer Research Foundation of Alabama and the Revvin' for Research event was born.
BCRFA's local focus was very important to her. Kay says, "With all the money staying in Alabama, we were very pleased with that."
This month, on September 26, Revvin' 4 Research will celebrate its 13th year and over $185,000 raised for lifesaving breast cancer research in Alabama.
"I think today [my mom] would be proud. It's just a great, fun event and I can't think of a better cause to donate my time and efforts to," says Kay.
"When my mom was still alive, she attended every ride. She didn't ride motorcycles, but she loved it. Before her first event, she said she was a little scared of the bikers. She asked me if they were going to be mean. I said, 'No! They're going to love you, Mom!' And they did!"
At the event following her mother's death, Kay had the difficult task of sharing the news with the crowd, most of whom had come to know her as the unofficial event mascot.
"I got up there to tell everyone and it was so touching because all these guys were crying. There was a biker—I would say maybe six feet one or six feet two, a really tall guy—crying like a baby. So many of the riders had gotten to be close with her, says Kay.
After 18 months of the COVID-19 pandemic and the accompanying restrictions on events, Kay is particularly excited for this year's ride.
"There are people who ride every year because they believe in what we do. It's nice to be able to offer them that opportunity when we are limited in what we can do right now. I know people will appreciate being out on the open road together."
To learn more about this year's Revvin' 4 Research event and to register, click here.
To read more 25 for Research stories or share your own, click here.