25 For Research: Dr. Nancy Merner & The Gene Machine
June 29, 2021
For Dr. Nancy Merner, choosing a career in breast cancer research wasn't just a job – it was personal.
"I have a family history of cancer," said Merner. "Breast cancer is a cancer that affects a lot of women. It's the second leading diagnosed cancer in women with a high death rate, and there are a lot of disparities that need to be addressed. It's something I feel passionate about."
Originally from Newfoundland, Canada, Nancy began her career in genetics studying hereditary breast cancer, deafness and heart issues. Years later after completing her postdoctoral training, however, she found her way to Auburn University, and began dedicating all of her time specifically to breast cancer research.
Today, she is best known as the creator and leader of Alabama's biggest (and pinkest) mobile research bus: the "Gene Machine."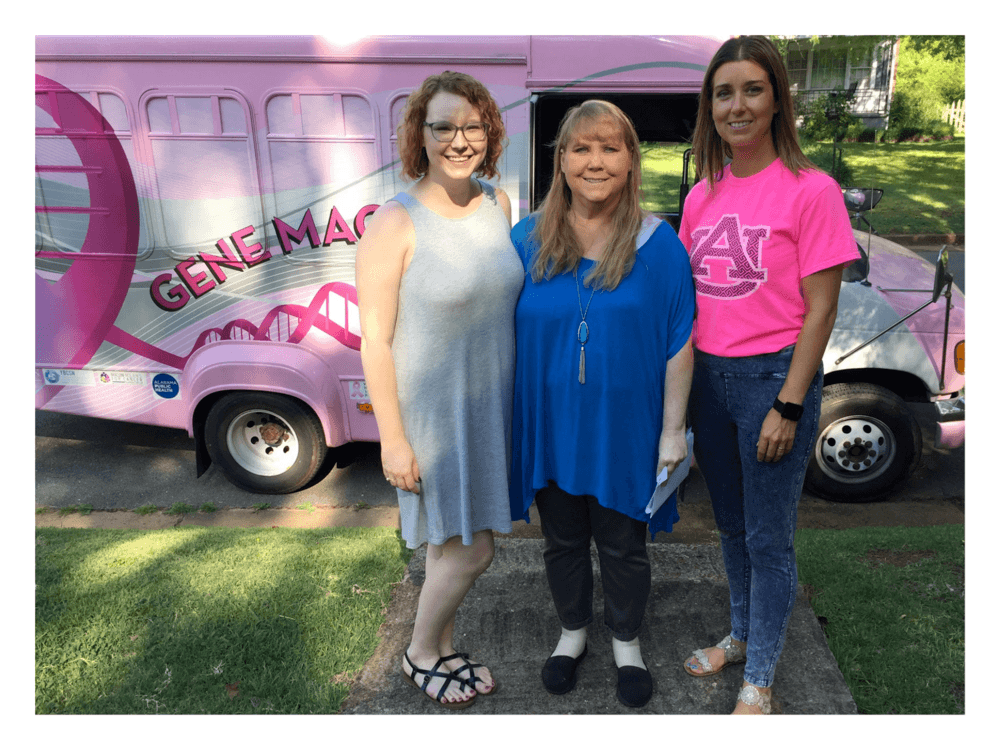 "The Gene Machine is a big pink bus that our team uses to study breast cancer genetics," said Dr. Merner. "We travel across Alabama to community events and enrollment sessions to bridge gaps in research participation. So, when someone lives in rural Alabama and wants to participate in our study, we travel to them so that transportation is no longer an obstacle."
Once aboard the Gene Machine, participants give samples (either saliva or blood) to test for specific genes which can be linked to breast cancer. If these genes are found, the individual is given genetic counseling on next steps in their journey, and Dr. Merner's team uses the data to discover new patterns in breast cancer genetics. If breast cancer genes are not found, the samples are kept securely and sampled periodically to ensure that no new breast cancer gene structures are present.
Primarily, the team hopes to test young breast cancer survivors (under 45 years old) and survivors who have a family history of breast cancer, as well as male breast cancer and triple negative patients. The goal? To discover why certain people are diagnosed with breast cancer. As of 2021, roughly 65% of hereditary breast cancer cases remain genetically unsolved, despite years of extensive research.
Dr. Merner urges everyone who fits the criteria, no matter their situation, to join the study to help push breast cancer genetic research forward.
"Just participating in the study helps your community, helps other survivors and it helps researchers make new discoveries," said Merner.
Due to the pandemic, Dr. Merner and her team have been given an even more unique opportunity: to take their research virtual, devising ways to create secure and HIPAA-compliant Zoom meetings and test kits. Now, participants can be recruited from anywhere in the United States, helping to strengthen their findings which are then translated to real-world solutions which can help Alabama-based patients, thanks to BCRFA research dollars in action.
"We need numbers to make a difference," said Dr. Merner. "We might have hundreds now, but we'll have thousands later. Genetic studies just need power to make a difference."
Dr. Merner emphasizes the importance of community involvement in both study participation and research funding, noting that the more funding the study receives from organizations like the BCRFA, the faster they can process results to uncover new clues about breast cancer patterns.
"All in all, research is very important to learn about breast cancer genetics, and we need everyone's help in making discoveries."
Have a story to share about breast cancer research? Visit our 25 for Research portal to share your story or nominate someone today.