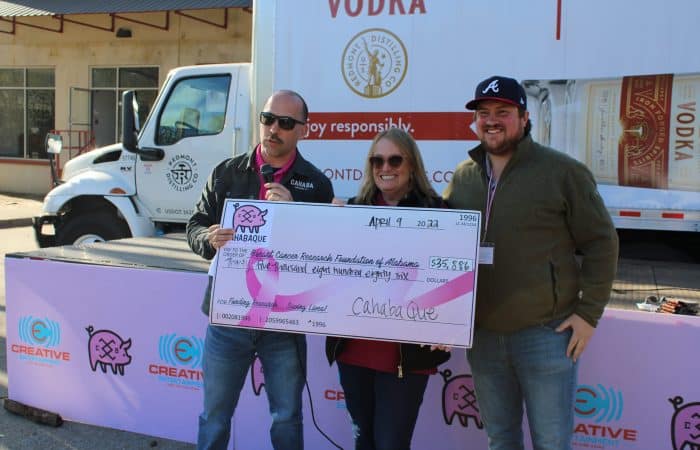 CahabaQue BBQ Cook-Off Raises Over $35,000 for Breast Cancer Research in Alabama
Twelve teams competed for best "CahaBUTT," People's Choice, Best Team Name at the event benefiting the Breast Cancer Research Foundation of Alabama.
Nearly 1,200 people came out to Cahaba Brewing Company on Saturday, April 9, to enjoy BBQ, beer, and music while raising money for breast cancer research at the CahabaQue BBQ Cook-Off. In its 10th year, the BBQ cook-off and fundraiser benefiting the Breast Cancer Research Foundation of Alabama (BCRFA) raised $35,886—the highest amount ever in the history of the event—bringing the event's lifetime fundraising total to $161,301.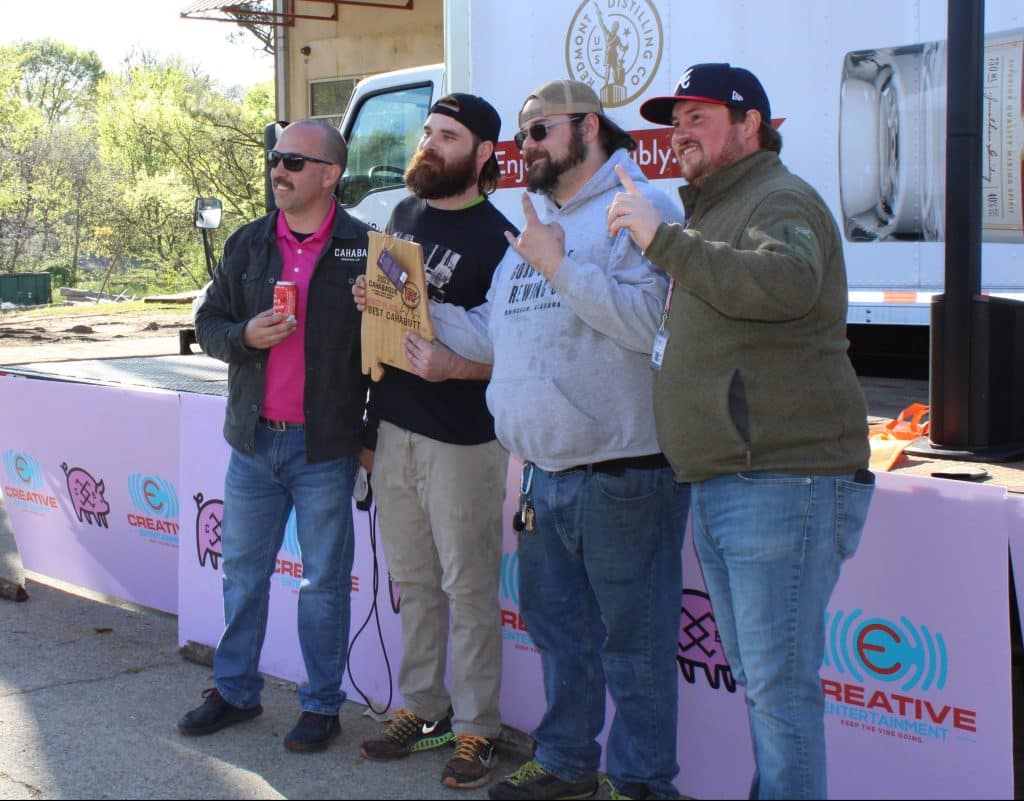 The event featured 12 cook teams who competed for best "CahabaButt," People's Choice, and Most Creative Team Name. Best CahaButt was awarded to Optimus Swine with LOCAL 1295 as Runner-Up and Jugtown Butt Rangers in 3rd Place. LOCAL 1295 took home People's Choice and Silence of the Hams won Best Team Name.
Eric Meyer, the co-founder of Cahaba Brewing Co. and Mountain Brook Fire Department firefighter, started the event in 2013 after a co-worker was diagnosed with breast cancer. "Today is a great day for breast cancer research! Research is what's eventually going to cure this thing, and that's why we're all here,' said Meyer in remarks at the event.
"Thanks to our longtime partner Cahaba Brewing Company and this year's sponsors, guests, cook teams, and volunteers, we are making a significant investment in research that will advance and improve breast cancer diagnostics, treatments, and prevention methods and ultimately eradicate the disease," said Beth Bradner Davis, BCRFA Executive Director.
This year, Cahaba Brewing Co. will host two CahabaQues—one in spring and one in fall. The fall CahabaQue date is Sunday, October 9. More information on the fall event and other events benefiting the BCRFA can be found bcrfa.org/events. All funds raised at CahabaQue stay in Alabama, but the impact is worldwide.
---
About the Breast Cancer Research Foundation of Alabama
Founded in 1996, the Breast Cancer Research Foundation of Alabama (BCRFA) is a nonprofit organization whose mission is to find a cure for breast cancer by funding promising breast cancer research in Alabama and raising community awareness and funding for that research. BCRFA funds promote a comprehensive approach to battling breast cancer by promoting collaborative and innovative research to help diagnose, treat, prevent, and eradicate the disease. With community support, BCRFA has invested over $11 million in life-saving breast cancer research. All funding stays in Alabama, but the impact is worldwide. Learn more about our mission and breakthroughs at www.bcrfa.org.