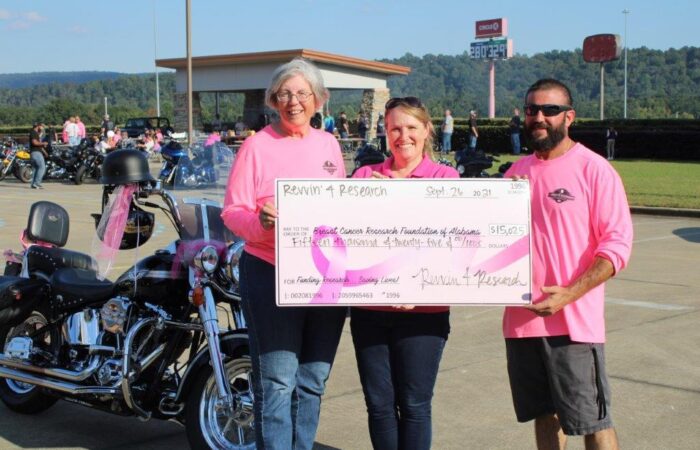 13th Annual Revvin' 4 Research Motorcycle Ride Raises Over $15,000 For Breast Cancer Research In Alabama
On Sunday, September 26, 181 motorcycles and 239 riders participated in the 13th annual Revvin' 4 Research charity motorcycle ride hosted by Heart of Dixie Harley Davidson benefiting the Breast Cancer Research Foundation of Alabama (BCRFA). The event raised $15,025 to support breast cancer research across the state.
Members of several police jurisdictions along the 50-mile route escorted the procession of "pinked-out" riders and motorcycles of all shapes and sizes after they passed under a giant American flag flown by the Pelham Fire Department.
"So many of us have been impacted by breast cancer, and Heart of Dixie is honored to host an event that brings out so many people to help raise money for research," said Mike DeSantis, General Manager of Heart of Dixie Harley-Davidson.
Since its inception in 2009, Revvin' for Research has raised over $200,000 to support local, lifesaving breast cancer research in Alabama. One in eight women and one in 1,000 men will battle this disease.
2021 event sponsors and supporters included: Heart of Dixie Harley-Davidson, ERA King Real Estate, Premiere Chevrolet, Kitchens Speed Shop, Lil Bits Tavern, Meredith Carpenter Law, Porter's Termonox, Process Barron, Synovis Micro Companies Alliance, By George Home Inspections, The Law Office of J. Thomas Crawford, Reli Title, Roddy O. Sample & Associates, 102.5 The Bull, Birmingham Coca-Cola Bottling Co., Dentons Sirote, High Level Marketing, Law Tigers of Alabama, and WBRC Fox6 News
The event is held each year on the fourth Sunday in September. Details about the 2022 event will be available at revvin4research.com.