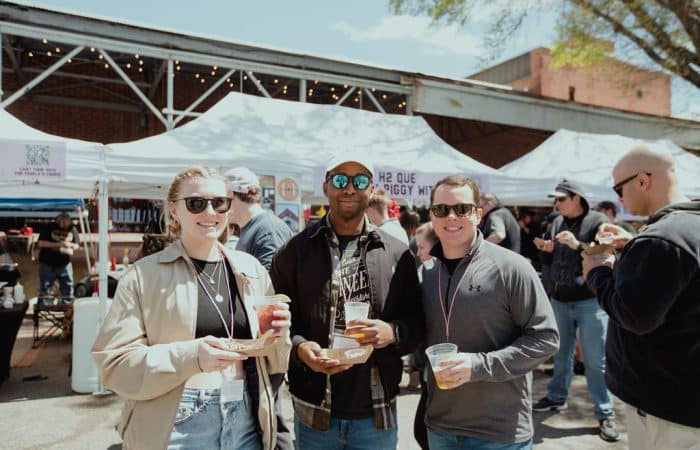 BCRFA raises over $287,000 for lifesaving research at spring events
At BBQ cook-offs, archery tournaments, and beyond, Alabamians joined together to fund local research
Whether at a grill or poker table or with a bow or golf club, over 1,700 people joined the Breast Cancer Research Foundation of Alabama in fighting breast cancer this spring. Together, the CahabaQue BBQ Cook-Off (April 9), Pink Palace Casino Night (April 23), Drive Out Breast Cancer golf tournament (May 16), and Bow-Up Against Breast Cancer 3D archery tournament netted over $287,000 for lifesaving breast cancer research across the state.
"Since our founding in 1996, the BCRFA has invested over $12 million to Alabama breast cancer research thanks in large part to the generous community supporters and partners who make our events possible," said Beth Bradner Davis, BCRFA Executive Director.
BCRFA event revenue fuels the organization's mission to eradicate breast cancer by funding research and growing awareness.
"BCRFA funding is unique because our grants accelerate the most promising, early-stage research happening right here in Alabama," continued Davis. "With our seed funding, researchers can gather the data needed to apply for larger national grants from funders like the National Institute for Health or the National Cancer Institute."
Davis said that, on average, funds invested by the BCRFA are leveraged 14 to 1.
"Research is what's eventually going to cure this thing, and that's why we're all here,' said Eric Meyer, co-founder of Cahaba Brewing Co., the host of CahabaQue which drew over 1,200 guests to the brewery on April 9.
With more than 4,200 Alabama women receiving a breast cancer diagnosis this year alone, the BCRFA is meeting a critical need by accelerating science towards a cure. The organization has a full calendar of events throughout the second half of the year too, including a disc golf tournament, BBQ cook-off, golf tournament, motorcycle ride, and 5K walk/run.
For more information on all BCRFA events, visit: www.bcrfa.org/events.
---
About the Breast Cancer Research Foundation of Alabama
Founded in 1996, the Breast Cancer Research Foundation of Alabama (BCRFA) is a nonprofit organization whose mission is to find a cure for breast cancer by funding promising breast cancer research in Alabama and raising community awareness and funding for that research. BCRFA funds promote a comprehensive approach to battling breast cancer by promoting collaborative and innovative research to help diagnose, treat, prevent, and eradicate the disease. Thanks to generous community support, BCRFA's lifetime investment in life-saving research totals over $12 million. All funding stays in Alabama, but the impact is worldwide.