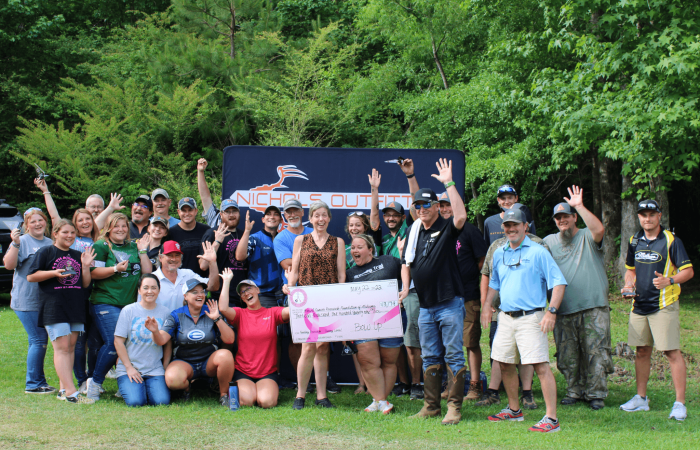 Bow-Up Against Breast Cancer archery tournament raises over $13,000 for research
The Breast Cancer Research Foundation of Alabama (BCRFA) together with the Heritage Archery Club and Bowhunters Association of Alabama announced yesterday that the 11th annual Bow-Up Against Breast Cancer 3D archery tournament raised $13,179 for local breast cancer research.
Presented by Nichols Outfitters, the event was held on May 21 and 22 at Cullman Archery Park and drew nearly 150 archers and bowhunters from Cullman and beyond, with several groups coming from out of state. Shooters competed individually or in teams in events such as fixed pins, open class, and traditional. Awards included Top Archer and Top Team.
"Since 2012, Bow-Up has contributed over $226,000 to Alabama breast cancer research," said Beth Bradner Davis, BCRFA Executive Director. "BCRFA funds are unique because they accelerate the most promising, early-stage research and then those researchers have the data necessary to apply for larger national grants from funders like the National Institute for Health or the National Cancer Institute."
Davis said that, on average, funds invested by the BCRFA are leveraged 14 to 1, making Bow-Up's lifetime impact on Alabama breast cancer research over $3 million.
---
About the Breast Cancer Research Foundation of Alabama
Founded in 1996, the Breast Cancer Research Foundation of Alabama (BCRFA) is a nonprofit organization whose mission is to find a cure for breast cancer by funding promising breast cancer research in Alabama and raising community awareness and funding for that research. BCRFA funds promote a comprehensive approach to battling breast cancer by promoting collaborative and innovative research to help diagnose, treat, prevent, and eradicate the disease. Thanks to generous community support, BCRFA's lifetime investment in life-saving research totals over $12 million. All funding stays in Alabama, but the impact is worldwide. Learn more about our mission and breakthroughs at www.bcrfa.org.