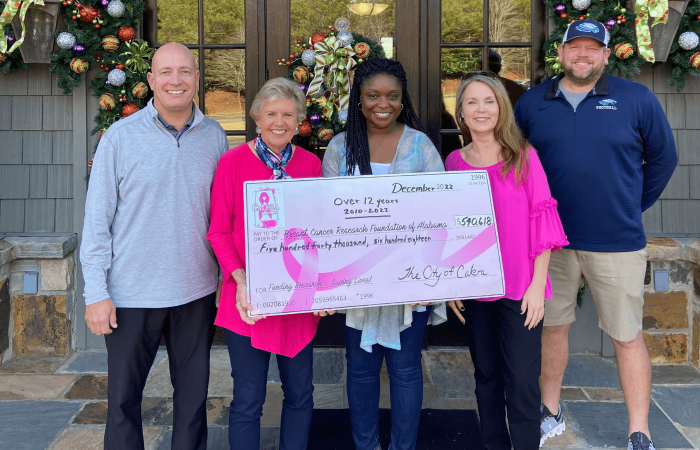 Calera Goes Pink raises over $60,000 to fuel local, lifesaving breast cancer research
City of Calera's annual campaign has raised over half a million dollars for the Breast Cancer Research Foundation of Alabama since 2010
The City of Calera and the Breast Cancer Research Foundation of Alabama (BCRFA) again partnered for the 12th annual Calera Goes Pink campaign raising $60,634 for breast cancer research across the state.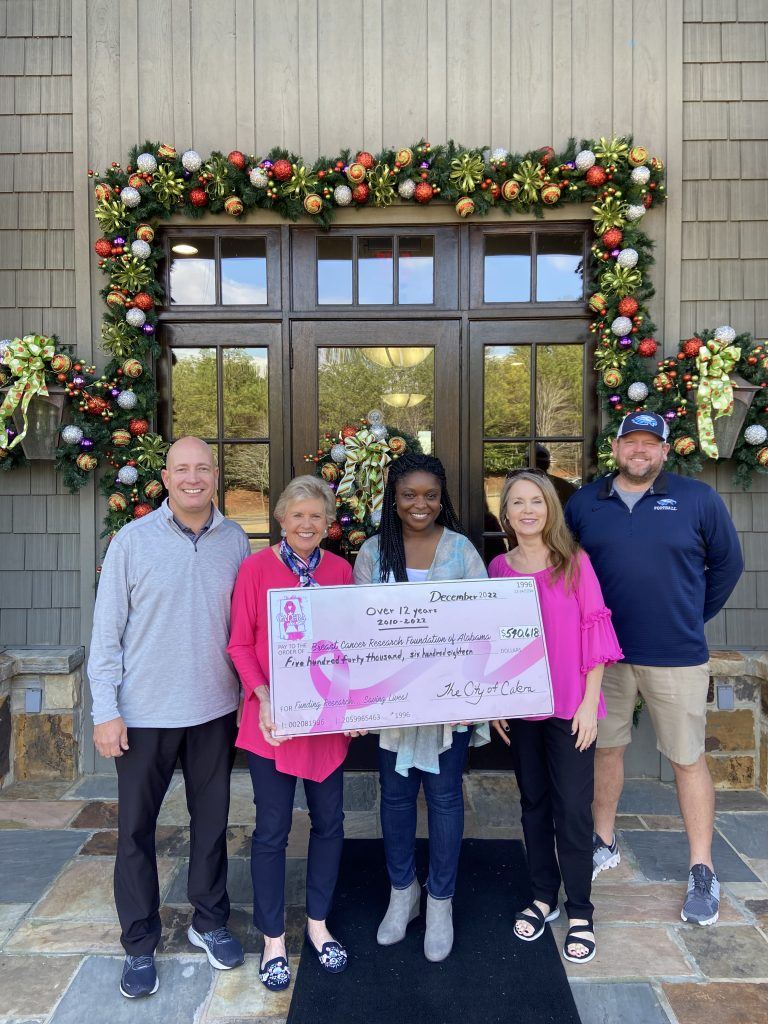 Each October for National Breast Cancer Awareness Month, the City of Calera rallies community members, business partners, and schools to host t-shirt sales, golf and disc golf tournaments, pink trinket sales, and more. Since 2010, Calera Goes Pink has raised over $540,600 to support the BCRFA's mission of raising funding and awareness for critical breast cancer research in Alabama.
"BCRFA funds meet a critical need by accelerating breast research towards a cure," said Kate Kiefer, BCRFA board member and Calera Goes Pink organizer. "Calera's generous spirit never ceases to amaze me. I am proud to stand alongside the community of Calera as together we fund more research—and ultimately save lives."
This year's Calera Goes Pink celebration began with the second annual Disc Golf Goes Pink disc golf tournament benefiting the BCRFA, presented by Bham Now. Over 100 disc golfers from Calera and beyond competed for a great cause at Oliver Park and George W. Roy Recreational Park.
On October 14, Calera High School hosted their annual "Pink Out" football game, facing off against Helena High School. The month of pink culminated at Timberline Golf Club for the Calera Goes Pink! Golf Tournament, presented by Active Air of Calera.
Money raised from Calera Goes Pink supports the most promising breast cancer happening across the state, leading to healthier, longer lives for the women and men diagnosed with breast cancer. All funding stays in Alabama, but the impact is worldwide.
In addition to the generous support from individual community members, major corporate and community partners included Active Air Inc., Lhoist, Saginaw, D.R. Horton, Volare Wealth Advisors, Bham Now, Nichols Outfitters, Central State Bank, Workplay, Alfa Insurance, A. C. Legg, Inc., Dianne Mooney, Stokes Automotive, George Shaw, Protective Life, Ozan Vineyard & Cellars, and Iron City Dynamic Discs.