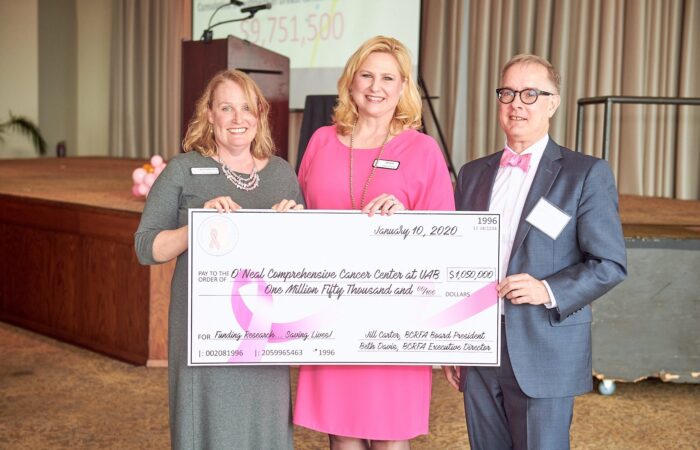 BCRFA Announces 2021 Funding Opportunities
The Breast Cancer Research Foundation of Alabama (BCRFA) is now accepting requests for support to advance breast cancer research in Alabama. Research projects may focus on any area of breast cancer research, which may include, but is not limited to: personalized medicine, prevention, early detection, drug discovery, immunotherapy, genomics and new breast cancer treatments. Requests for specific amounts to cover shared resources expenses, such as drug screens, genomic testing, imaging, etc., are strongly encouraged.
Number of Awards will be based upon number of proposals received, support needed, and available funding.
The goals of BCRFA funding are as follows:
Encourage innovative research in Alabama among top researchers in the field of breast cancer research;
Help support basic research that may emerge as translational research;
Offer seed money to promising breast cancer research in Alabama so that the promising research projects might obtain grant funding from national funders;
Offer hope to those affected by breast cancer and ultimately save lives.
Researchers may submit more than one request for support of distinct breast cancer research projects.
Key Dates
Opportunity Posting Date: October 1, 2021
Deadline for Request: October 31, 2021
Contact for Submission: Beth Bradner Davis, BCRFA Executive Director,

[email protected]

Notification of Award/Funds Disbursement:  December 15, 2021
Application Requirements
Page Limitations: The application should be no more than three pages. Biographical sketches are not included in the page limitation.
Application Elements:
A descriptive title of the research project
The primary investigator's contact information and biosketch
Brief abstract in layman's terms including specific aims of the project
Budget for the project, noting requested utilization of BCRFA funds
Reporting
Awardees will be required to submit a Research Progress Report and funding utilization within 9 months of receipt of funds. All publications must acknowledge funding from the BCRFA.
Questions?
Beth Bradner Davis
Executive Director
[email protected]
205-996-5463