Shop Pink
Support the BCRFA by shopping online through Yesboxx!

Donate without spending an extra penny. Every time you shop on

Yesboxx.com

, a percentage of your total purchase price benefits the BCRFA*. Yesboxx has so many popular stores to choose from including Amazon, Target, Staples, Office Max, Expedia and many, many more. Your business or firm can help raise significant funds by purchasing office supplies, booking travel and purchasing gifts through Yesboxx!

(2)

*Choose - Breast Cancer Research Foundation of Alabama on the "YesCause" page

(3)

Go to "YesStores" page and choose a retailer

(4)

Shop and Support Research!
Show your support with "

Go Pink

" Shirts!
Available in short & longe sleeve. All proceeds benefit the Breast Cancer Research Foundation of Alabama.
Short Sleeve (S-XL)........................$15.00
Short Sleeve (XXL-3XL).................$17.00

Plus Shipping & Handling.....................$5.00
Click here to purchase.
---
Camlettes
What's a Camlette? It's the perfect solution for covering your cleavage, feeling confident about your wardrobe and getting rid of all those hot, tight, bunching and riding camisoles.
A "Camlette" is a lightweight, cropped cami that makes it the perfect completion to hundreds of styles (not a bra). A Camlette can be worn with a suit, button-up top, sundress, sweater, cocktail dress, tank or just a comfy low neck T. Made from high-quality fabric and lace a Camlette is feminine, fresh and fun just like you! So expand your wardrobe and reclaim the neckline with Camlettes.
Enter BCRFA at checkout and we will receive 25% of your purchase for breast cancer research! Online price of the pink camlette is $20.00 for the foundation!
Click below to learn more!
---
"A Heaping Helping"
Songs for the Breast Cancer Research Foundation of Alabama-Scott Ward
"My mother found out earlier in the year that she had breast cancer. She had to have a mastectomy at Regional Medical Center in Anniston. While I was sitting around the waiting room areas, I thought about all of the great musicians I have been fortunate enough to meet and to work with, and I felt it was my duty to try and do something constructive to try and find a cure for breast cancer.
In addition to my mother, my great-grandmother had breast cancer, and I have lost two classmates to breast cancer, both in their '40s, Brenda Bostian, and Becky Maddox Tucker.
I have 2 daughters and a new grand-daughter. I wanted to try and do something that might help them and future generations of women. My friends Greg Martin of The Kentucky Headhunters/Mighty Jeremiahs, and Christine Ohlman, who was formerly the vocalist for The Saturday Night Live Band, are assisting me in promoting the project in Kentucky, New York City, and throughout the country."
To Listen/Order – Click Here.
---
"In White Light" CD by Mae and Cally Robertson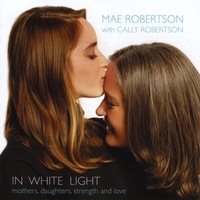 "In 2005, I was asked to perform a benefit concert celebrating mothers and daughters to raise money for the Breast Cancer Research Foundation of Alabama. This cause was close to my heart for several reasons: my friend, Rachel Bissex, who wrote this album's title song, had recently died of breast cancer; Penny Nichols, who sings most of the harmonies and Irene Young, who took all of the photos, had both recently been diagnosed (I'm happy to report that both are now cancer free); and my mother-in-law, Jennie Robertson, was a longtime breast cancer survivor. Needless to say, I jumped at the chance to lend my voice to the cause. For me, it was literally a celebration of mothers and daughters. This new recording, In White Light is a joyful extension of these concerts, which have become a continuing tradition," says Mae. (For more information on the upcoming October concert, please visit the Events Page)
In White Light includes 8 previously unreleased songs - four sung by Mae and four sung by Cally. The additional 12 songs appeared on previous albums of Ms. Robertson's.
"We are so very grateful for the release of In White Light," says BCRFA President, Dianne Mooney. "Mae recorded and produced this CD with the intention of raising awareness and funding for breast cancer research, and 100% of the purchase price of this CD will go directly to fund breast cancer research."
To listen to a sampling of the CD, visit www.maerobertson.com.
---
Special Occasion Scrolls
Are you planning a party and searching for a meaningful favor for your guests or co-hosts? Present them with a gift that keeps on giving- Special Occasion Scrolls are available through the Breast Cancer Research Foundation of Alabama. We can personalize them with a poem, scripture or special thanks to your guests. Your donation will be used for the most innovative breast cancer research and is 100% tax deductible.
Please contact Jennifer Galbreath at 205.996.5463 or 205.871.4653.
**Scrolls are available for any occasion; weddings, graduations, bar and bat mitzvahs, birthdays and holidays.
---